arabia through a lens, sepiatone
May 17, 2000
Another day, another sweeps period, another spectacular historic miniseries event for May.
What is it about recent sweeps periods that have brought out historical literary works to play?
The success of The Odyssey and Gulliver's Travels on NBC seems to have ruined sweeps month. It's hard to imagine that anything could ruin sweeps month even more, especially in May, but that seems to have done it. The difficulty is that they were both terribly successful--not only critically acclaimed, but people watched them--thus producing a network stampede to repeat this high-budget success.
Unfortunately, they seem to have forgotten what made those miniseries successful. It wasn't just the spectacle of it all, it wasn't just the casting, it isn't the beautiful sets, it wasn't just the "event advertising", although, no doubt, it all played a role.
It's the writing, people! You can pretty much do what you want with something like The Odyssey, because, although many people know the framework of the story, most people haven't read Homer and don't know the details. (And they should be glad. About the third or fourth time Rosy-Fingered Dawn goes past, mayhem begins to enter your mind.) With a source like Gulliver's Travels, you have to be more careful, because it has been more widely read, if generally in a sanitized version. But in both cases, the scriptwriters were fairly careful to make their characters consistent and to generally write a very good screenplay that was fairly true to the time and the characters.
Unfortunately, this year's crop of literary/historical miniseries doesn't seem to have absorbed that part of the lesson. For all its beauty and casting, NBC's The Tenth Kingdom was basically a mess (as I mentioned in an earlier review). And now Arabian Nights comes down the pike.

Arabian Nights, like the Tenth Kingdom, is a beautiful, generally well-acted ... mess.. The art direction and set decoration were truly stunning in places, although they tended to be a tad sepiatone. The acting, as mentioned, was for the most part fairly good. (Does Dougray Scott do anything but period pieces? Honestly, I've only seen him in three things, and they were ALL period. Not that he's bad, heavens no. Somehow, he seems to be quite right for period pieces. And the actress playing Scheherazade, Mili Avital, was quite good, all things considered.
Unfortunately, the writer and director seem to have left a few brain cells behind here and there.
Take, for example, Scheherazade's overall situation. She is currently the Sultan's wife because he caught his first wife, whom he loved greatly, having an affair with his brother. In a fit of anger, he killed her. (As was his right, under the laws at the time. Note that in the original story, he kills her lover as well.) After that, he marries a woman a day, and has them executed before dawn the next day, after a night of ... whatever. (Well, it frankly doesn't sound as if it would have been pleasurable for anyone involved, including him.) If the woman survives past dawn, she will live through the next day, but none have so far. Scheherazade, in this version, is a very bright, intelligent young woman who has never told a story before, and now has to do it in an intriguing enough way to keep him engaged until after dawn daily. So, in order to develop the skills to do so, every morning after the Sultan falls asleep, she goes out to the bazaar to a professional storyteller so that he can teach her his skills.
Now, consider: the Sultan executed his first wife because, at its core, she betrayed him with another man. She deceived him. If Scheherazade is going out daily to be taught by this man how to tell stories, what is she doing that's so different? A different level of betrayal, to be sure, but still betrayal. And with a man. To say nothing of the fact that a gently reared woman of the harim would never have been able to get out and about like that. It's simply not a sane or safe thing for her to be doing. (And in the original, she doesn't. She and her sister, Dunazade, have been telling each other stories for years and developed the skills. I don't know why they decided that this part of the story had to go.)
The stories themselves also had problems. For some reason, they decided to introduce all sorts of anachronisms into the dialogue for John Leguizamo's djinn (he plays two of them), and they just jar you right out of the story. Airplanes? Cars? What the hell are they doing in this story? The one story that works the best--the tale of Buk Buk or Dikdik or whatever the character's name was--depends on stereotypes for its humor, stereotypes which are just this side of offensive, and which, frankly, didn't have to be there. The base story itself was funny enough without them--various people keep winding up with the corpse of the sultan's favorite in their possession and MUST get rid of the body, lest they be blamed for his death. The stereotypes are only slightly more muted in the Aladdin story.
Scheherazade's part of the story also contains a conspiracy subplot between the Lord High Executioner and the Sultan Shahryar's brother, the first wife's lover. Shahryar doesn't have enough people killed for the executioner to make money, so he's throwing his weight behind the brother. Not only is this plot stupid, but after the establishing scenes, it pretty much disappears altogether--between Scheherazade's scenes with Shahryar, and the stories she tells, there's simply no time to establish a decent conspiracy. In fact, the entire subplot with Shahryar's brother, which didn't exist in the original, is both stupid and appalling. (He drags around the corpse of his lover, the sultan's clearly dead first wife. Ick.)
The ending, to be sure, was quite nicely handled. In the original, you don't discover until the end that Scheherazade has been telling these thousand and one stories over the course of 20 years and several children. In the miniseries, at the very end, you discover that Scheherazade has, in fact, been telling the entire story--her own as well as the others--to her youngest children. She's older, and her hair is going gray, so clearly time has passed. It was an unusually clever and deft touch for something that managed not to be clever or deft for the previous four hours.
Posted by iain at 11:04 PM


ex libris: civilly campaigning
May 9, 2000
A note: all of the pictures below are links either to Baen Publishing or to Amazon.
---

"the one thing you can't give up for your heart's desire is your heart."
Miles Vorkosigan in Memory

---
I've been reading A Civil Campaign by Lois McMaster Bujold. (NOTE: the picture link goes to a page with ten sample chapters online.) It's part of her series of books about Miles Vorkosigan (more or less--the first two books, Shards of Honor and Barrayar, recently repackaged as one book called Cordelia's Honor--are about Miles' parents, and Mirror Dance is ... well, we'll get there). It's the end of a four book sequence within the series. (Well ... maybe the end--one can't tell yet--and there's actually another book in there, but it takes place earlier and was written for a specific purpose ... but I'm getting ahead of myself.)
What I like about her most recent books is that she's been writing Big Books (and I'm not just referring to the page count).
What do I mean by BIG? Well, honestly, I'm not quite sure. Big ideas, big characters (good, strong, believable in context) big themes, great writing ... all of that, at least.
Bujold is no stranger to BIG books; her second, Barrayar was about as big as they get. The story of one woman's affect on an entire culture, more or less. Or at least about how she gets the chance to do so. (The cover here isn't the original cover but it is kind of ... indicative. And somehow much less lurid than the "Cordelia's Honor" cover that replaces it on the portmanteau edition--though I suppose that's understandable, since "Cordelia's Honor" is pulling double duty.)
After Barrayar, she wrote a lot of space opera type stories. Fun, entertaining, but not BIG in the same way. I think she was trying for another Big story with Brothers at Arms, but as she remarked once, the story was meant to be about another character completely and somehow got hijacked by Miles. Which made the story not at all what she meant it to be.
She got another chance at a BIG story with Mirror Dance. Basically, the story is about one person beginning to discover who he is. And, almost as important, who he isn't. And what can happen when he does.

In Memory, we got more of the BIG themes. What happens when you lose your life, and how you find it again. Or how you find SOMETHING again, anyway.
I have to admit, at that point in time, Memory was kind of speaking to me. Mostly because I was trying to lose my life, and couldn't quite figure out how to do it or how to make it work. I suppose that would be another qualification for a big book, a big story, wouldn't it? That somehow, it speaks to something in you, even if it's not something major like "how to lose your life and rebuild it again". Of course, I was rather more interested in the rebuilding part--I'd already blown up large sections without meaning to, so it was mostly a matter of clearing out the rubble and starting over again. I suppose I was looking for inspiration on how to approach the subject.
In Komarr --- I suppose, technically, it was a continuation of Memory's themes. It was still BIG, but I'm damned if I can explain how or why. Watching characters discover more about themselves? I'm really not sure. It's sort of ... a waiting book, in some ways. It sets up A Civil Campaign by putting all the right people in all the right places.
A Civil Campaign is basically about marriage and how not to go about it. (I know. That doesn't sound BIG, does it? Trust me, it is.) I sat in the restaurant and the coffee shop, chortling and chuckling and saying "This is wonderful!" and "This is SO good!" to myself until people were looking at me even more strangely than they were the day I read an Ntozake Shange book in there. (Story for another time, perhaps.)
It's a book I would give almost anything to be able to write. It's funny, it's deep, it's periodically about bugs, sometimes it's about butter, it's about love, it's ... wonderful. It's an emotionally satisfying cap to this five book set inside the entire series.
Er ... did I say five books?
Well ... yes.
See, in between Mirror Dance and Memory, there came ... Cetaganda. Now, to be sure, there's not a damned thing wrong with the book. It's just ...
A trifle.
See, I would be willing to bet that Cetaganda was written, at the very least, after Memory was started. Probably after it was finished. The purpose of Cetaganda is to explain a detail that crops up in Memory. A throwaway detail within the context of the book, but a rather important one within the life of the character. I mean, it's not often that you're honored by your people's worst enemy--at least, not without landing in prison or exile--and so the detail of the decoration was desperately in need of explication. But coming in the middle of all these Big Books, Cetaganda was not only sequentially out of place (it occurs much earlier in the character's career), it was contextually out of place. It wasn't another Big Book, and so, despite being perfectly good space opera in its own right, it felt like a disappointment.
I feel like I'm dismissing an entire genre here, and I don't mean to be. I like space opera. It's fun, it's escapist, and that's generally all good (or even bad) space opera desires to be. The modern day Western, if you will.
But sometimes, one of the space operas breaks out and aspires to be something more. And really, good space opera is always about the people and not the toys or the shooting.
And Bujold writes good space opera. In fact, she writes GREAT space opera.
Interestingly enough, however, Mirror Dance is the only one of her Big Books that could come close to being described as space opera. It's the only one of them that actually has any action in space, and most of it takes place on one planet or another.
All of her books are science fiction/fantasy, in that they take place in a civilization that Is Not Yet.
Of course, imagining this taking place in our own civilization would be utterly impossible ... right?
---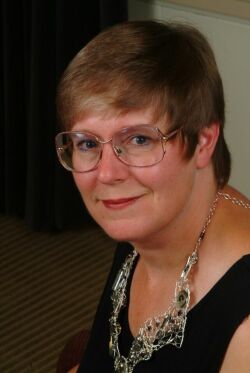 Yes, I know. The LAST thing today's entry needed was another picture. But it's always a good idea to see who you're talking about, isn't it? This is a picture of Lois McMaster Bujold, the author of the books I'm talking about today. Clicking on the pic takes you to her official fan site.
---
I swear, between this and all the links to Baen and Amazon, I feel like a public relations shill.
And, somehow, not a very good one.
I need a Bigger Budget!
Posted by iain at 10:55 PM


puppies, droz, and beliefs
May 8, 2000
This entry so lightweight and disorganized that if you blow on it, it'll fly apart and float away. Just so's you know.
And another friendly warning: by the middle of this entry, I will have spoiled the endings for at least one, if not two, episodes of South Park, two episodes of X-Files, and the entire season to date of Xena Warrior Princess.
Run while you can.
oh. dear. god.
I decided tonight that I would admit to my inner sleazoid. That there is some deeply sleazy side of me that likes watching big scantily clad sweaty men, even if wrestling is relentlessly incorrect, politically and in every other way.
Only ... only ... they were distributing the award for the Miss Rumble bikini showdown from last night's Royal Rumble on tonight's WWF Raw.
Tonight was the real versus fake "puppies" competition.
All I will say is that seldom have so many worn so much tearaway fabric that didn't actually tear.
I don't care how nice it is to watch sweaty outsize guys, I'm not THAT incorrect.
And it turns out that there's a reason that Prince Albert is no longer Droz' boy toy. Droz was hurt very badly in a match back in October; it looks like he's at least partially paralyzed. (I was actually able to verify that, which is just weird.) One of those things which lets you realize that, however fake wrestling may be, it carries some very real risks.
Actually, I didn't mean to start out with wrestling.
It was just all those "puppies"...
I'll be traumatized for years, I tell you.
What I want to know is, what on earth is it with television and religion these days?
Maybe it's just what I watch (well, clearly), but television has shown a rather extraordinary willingness to tan a few sacred cows' hides.
South Park, as always, has been the most over-the-top about it. In their New Year's episode, they not only showed Jesus--which, to be sure, is standard operating procedure, what with his show, "Jesus and Friends" and all that--but they also showed God. And God was ... well, I'm not quite sure what he was, actually. I think he was mostly some sort of doglike creature.
There was actually another South Park about it, but I frankly don't remember it. Alas.
And in two of the last three episodes, the X-Files has had an unusual take (for it, that is) on religion. For once, Scully's Catholic beliefs were actually given some respect; Mulder actually backed down when she finally said, "Look, this is what I believe, so CUT THAT OUT!" (Well, not in so many words, but that's what it amounted to.) Of course, the snake charmers got the short end of the stick this week--apparently in this weeks episode, to be a snake charmer is a sign of the antichrist.
I must admit, though, the one that's taking the most risks--for no reason that I can actually determine--is Xena Warrior Princess. In just this week's episode, we had a messianic figure, and Xena discovered that her baby was, in fact, immaculately conceived, if not quite by the usual means. (Have to admit, I can't think of anything more likely to make Xena cut open her own uterus than to discover what she found out this week about who the father--if that's quite the right word--of her child is. Only she's found her inner peace. Sort of. I mean, what the HELL are they doing?)
I guess I just don't understand this full-court press of/on religion on television. I mean, for the most part, in horribly odd ways, they've been relatively respectful (which, for XF at least, is markedly unusual).
Thing is, they're all doing it in ways that are sure to offend people. And I haven't figured out how much of that is deliberate.
(Well, except for Xena, of course. They may be building a deeper philosophical base for ... something or other, but it's quite clear that they're being deliberately ... challenging, shall we say. I just don't understand why. Surely all this wasn't necessary just to find a new direction for the show because Lucy Lawless was pregnant. As for South Park ... they keep veering between being unusually thoughtful and respectful--if a bit north by northwest--and being their usual obnoxious selves.)
I must admit, I have an ambivalent attitude toward religion in mass media.
Matches my ambivalent attitude toward religion generally, I suppose. A rather neat combination, right?
I am a bit wary of organized religion, I must admit. Partly because it's so easy for it to warp into things that are very ugly. Besides, it always seemed to me, in a weird way, that at its best, organized religion was more about the community than the beliefs--after all, whatever your beliefs, the need for other people to practice them is relatively minimal, really. Priests and ministers or whatever the clerics are called to fulfill whatever rituals are required. The rest is about being with people who believe as you do.
(And in all seriousness, if there's a religious person out there who reads this, could you tell me: what is the purpose of the sermon, really? It always seemed to me that the educational part of church, the part where people are given the ideas behind a given religion, was handled in Sunday school. I never understood the sermon part. That may have been because I was fairly young when I withdrew from organized religion, to be sure; I was still young enough that I thought of the sermon as amazingly boring. I used to sit in church and actually read the bible, and wonder why the sermons were never as interesting as the stories. But I digress. I think.)
That said, for reasons that aren't too hard to understand, most mass media seems unrelentingly hostile toward organized religion. After all, the parts of organized religion that actually talk about mass media are, for the most part these days, unrelentingly hostile toward them.
Even so ... maybe it was just the way I was raised. It always seemed to me that, to the extent that you're able, you should treat someone's beliefs with respect. To be sure, there are limits--my own personal blind spot happens to be the Mormon church. The difference in political beliefs and other things aside, I can't find it in me to treat a religion respectfully that didn't decide until 1972 that I wasn't a representative of the Antichrist on Earth. The actual Mormons I've met have been, for the most part, perfectly nice people; I just flatly refuse to discuss religion with them, ever. (Of course, unless it can be discussed in a fairly academic way, I decline to discuss religion generally; it's far too easy to offend unintentionally.)
Um.
Yes.
I started out somewhere else entirely, didn't I?
I think that last parenthetical actually brings me full circle.
The reason that I have difficulties with the current media portrayals of religion and religious beliefs is that frequently I have the feeling that they really are trying to offend, quite deliberately.
When they aren't trying to offend, they're just so ... Western.
Take "Touched by an Angel". It's inspiring and uplifting and all that. The difficulty I have with it is that every week, it pretty much says, "If you're not a Christian, you're just doomed." Not explicitly, of course, but you never see any aspects of the myriad of other religions available in this country. You never see any sign that anything else could exist.
Of course, this is doing something that I always hate it when critics do it: criticising something for not being what you want it to be. And to be fair, "Touched by an Angel" never aspired to be anything but what it is.
I just suppose, in this polyglot country, it seems that we should have something on television that admits of the possibility of something else. That says that other beliefs would be equally valid.
Which would probably produce an even worse backlash against the media, unfortunately.
Posted by iain at 10:44 PM


ex libris: depthless deeps
May 7, 2000
OK, first, let's just explain that little logo to the left.
Unabridged Books in Chicago has this huge overstock of stuff that's been remaindered. Somehow, it's all stuff that either I never saw the first time, or saw and thought that it cost too much. And now that they've got it all concentrated in one section and I can see it all, I've been buying all this stuff for sometimes 25% of the original cost. And thus, reviews of older works will sometimes appear here. Hopefully relatively short reviews. But who can tell? Any road, they'll all carry the "remaindered" logo.
And so, onward!
Depth Takes a Holiday : Essays from Lesser Los Angeles

by Sandra Tsing Loh (1996)
trade paperback from Amazon or Barnes and Noble: $10.40
hardback remainder from Unabridged Books, Chicago: $5.99
(the cover of the trade paperback, shown here, is quite different from the one on the hardback.)
My goodness, this is a fun read!
OK, first off, the title is NOT misleading. Depth takes a holiday is almost a perfect title for this book. A collection of essays, some original to this collection, some collected from her other gig in the (now defunct) Buzz magazine, and almost all frothy and fun. After all, with chapter/essay titles such as "IKEA! Cry of a lost generation", "Nudes on Ice", "Lost in CD-ROM Land" and so on, one really wouldn't expect essays of incredible ... er, depth.
That said, you do occasionally veer with Sandra into moments of rather startling seriousness. For example, "Is this ethnic enough for you" has moments of sincerely grim irony:
Then, as internationalism waned in the self-centered seventies, a new aesthetic called multiculturalism washed up on the dreary beaches of academe. Unlike internationalism, which viewed the world through the rose-colored lens of global brotherhood, multiculturalism was concerned about making sure everyone got a piece of the pie. Unlike international people, multicultural people seemed to spend much of their time hurling things at each other and fighting over gristly bits of grant money.
In arts, multiculturalism has become prized over all other qualities--over talent, over beauty, over ideas. As a result, emerging playwrights are discovering their one-sixteenth cherokee roots. SEcond generation Asian-American actresses who never even bothered to learn Chinese are suddenly yearning for their grandmothers in Shanghai (not enough to go there, perhaps, but enough to do a monologue about it). And Caucasians are suddenly developing pieces about the terrible angst of having no actual ethnic roots on which to base their art.
---page 72
The best of the essays, for me, were actually the first two: "IKEA! Cry of a lost generation" and "The Joy of Temping". The latter in part because of a rather grim summer spent as a statistical typist for the University of California--a great deal of your reaction to this book, especially for those in their thirtysomethings, is going to be because of the types of experience that you bring to it. Generally in your late twenties or early thirties, you hit a certain stage of your life, a certain stage of mind--almost, but not quite, settled and not entirely sure whether you want it or no--and this collection brings up all those memories, resonates with them. (Well, OK, most 30 year olds haven't been to Club Med. And I do want to know where in New Mexico she saw pale green cornfields shimmering under an azure sky.) Going through phases of eating too much take-out, the trials and tribulations of dating, the search for satisfying employment--we've all done that, or most of it, and when she works on those common experiences, her writing is at its best. (In fact, the two Club Med essays are among the weakest. Possibly because if you're going to read about someone vacationing in the lap of luxury, the least they can do is enjoy it and not feel guilty about it.)
Overall, though, it's mostly a breezy examination of the Los Angeles landscape through the eyes of a "late Boomer" (of which I happen to be one, so I sometimes understood her rather better than I wanted to). And she doesn't limit herself to Los Angeles; in "Nudes on Ice", she actually goes to Las Vegas and takes the opportunity to see the show "Nudes on Ice":

Nude blonde women ... in big Las Vegas Lido hats ... on ice skates. As dinner theater [...] As the drums rolled, the announcer gaily introduced "NUDES ON ICE" ... by saying who was in it! And to my horror, it appeared as though its participants boasted actual skating credentials. It was so unutterably dark ... apparently, one of tonight's Nudes had actually won the Olympic Bronze medal in Helsinki!
---pages 32-33
(For the record, Helsinki does not seem to have ever hosted the Winter Games. In fact, FINLAND doesn't seem to have hosted them.)
The Nudes, in fact, turn out to be rather less than she's expecting.
In any event, it's a nice fun afternoon read. For the most part, the writing is crisp and entertaining and evocative. Buy it and save it for the summer, then take it to the beach. Read it when you're on a trip somewhere. You won't regret it.
And parts of it will lodge in your brain and stay there, whether you want them to or not.
Posted by iain at 10:13 PM


ex libris: sequins? what sequins?
May 6, 2000
Island of the Sequined Love Nun by Christopher Moore
Paperback: $5.50 at Amazon
Hardback: $16.10 at Barnes and Noble
OK, let's get that title out of the way right now.
Island? Yes. Two, in fact. More if you count all of Micronesia and Hawaii, but most of the action just takes place on the one island.
Sequins? Well .... no, not really. Skin, yes; sequins, no.
Love? Well ... eventually. I think.
Nun? No way, babycakes. Rather, a faux goddess. (And I think she might insist on "faux" and not false.)
It's an interesting little book, in its own way.
OK, I'm going to say this now, because I promised someone I would: reading Island of the Sequined Love Nun is like reading Carl Hiaasen on both speed AND acid. This is not the unreservedly good experience you might think it would be. (Of course, you have to have read Hiaasen's fiction for that to be meaningful, so for the Hiaasen impaired, let's say ... It's loopy and zany and there's a lot happening and you feel like he's working really hard to get it there.)
Tucker gulped. She'd faked him out of his shoes. "I'm sorry, Mary Jean. I'm..."
She raised a hand and he shut up. "You know I don't like to use profanity or firearms, so please dn't push me, Tucker. A lady controls her anger."
"Firearms?"
Mary Jean pulled the Lady Smith automatic out of her purse and leveled it at Tucker's bandaged crotch. Strangely, he noticed that Mary Jean had chipped a nail drawing the gun and for that, he realized, she really might kill him.
--pages 15-16.
The plot ... well, OK. Tucker Case, a tall, strapping, stereotypically handsome pilot, works for a company which is not the Mary Kay Cosmetics company, OK? Despite the big pink Lear jets. Anyway, because Tucker never fails to follow his dick, no matter where it leads, he gets into this little accident. (I defy any man who reads the details of his accident not to wince and cross his legs at That Moment.) Seeing as the plane is in pieces, he gets fired, understandably. Through various intrigues and machinations on the part of humans, deities and fruitbats--and despite the intrusion of the odd typhoon--he winds up out on a Micronesian island, working for a doctor and his va-va-voom wife, who plays the role of the Sky Priestess for the natives. Tucker then uncovers various nefarious doings and has to decide what to do.
"You're Malkink's Vincent?"
"The same. I gave the chief the original of that lighter."
"You could have just said so. You didn't have to be so dramatic." Tuck was glad he was a little drunk. He didn't feel frightened. As strange as it all was, he felt safe. This guy--this thing, this spirit--had more or less saved his life at least twice, maybe three times.
I got responsibilities, kid, and so do you."
---page 196
In case you were wondering. the above mentioned Vincent is a ghost. Or a god. Or something. It's not exactly clear, and it's not meant to be.
In some ways, with the use of ghosts and/or gods, talking (or not) fruitbats, the odd cannibal or two, and the primitive peoples in touch with nature (whether they want to be or not), Island comes across as a peculiarly American take on the magical realism novel. Even the ghosts are relentlessly practical about the whole thing.
"Of course," Vincent continued, "This is kinda turning into a religious experience for you, ain't it? Go with what you know, right? You let her run the show, you got nodecisions to make and no worries ever after. Not a worry in the world. You got my word on that. Although, if it was me, I'd check out her story to be safe [...]"
---page 264
Ultimately, Island is a sort of redemption novel. The main character gets into a mess, through his own actions and because he just isn't paying attention, and then gets to decide whether or not he'll literally be a hero.
The main difficulty I had was getting through a seriously overwritten first half of the book. (Structurally, there's a rather odd tense change from Chapter 2's present tense to the past tense for the rest of the book.) I mean, I started out reading normally, and then segued into speedreading. Thing is, normally I don't have to speed read; reading normally, I can polish off a 450 page novel in just a shade over two hours. If I'm really enjoying something, I usually have to figure out ways to slow myself down so that I can really enjoy it. Speedreading is reserved for those books where I want to find out what happens, but for one reason or another, it's just really intensely annoying.
Actually, you know, it turns out that if you can survive the seriously loopy first half, it settles down and gets interesting. It becomes a sort of ... really odd action/adventure story. (Well, I mean, it's still got the fruitbat, and the transvestite former prostitute cum navigator and the cannibal and the Sky Priestess and the saga of whether or not Tucker's penis will ever work again ... ) And it's interesting watching Tucker discover that he does have a conscience and trying to figure out what to do with it. Basically, what happens is that the plot and all its attendant hysterics settle down enough for you to really get involved with the main character. (About the same time he does himself, actually; it's kind of fun watching someone discover that they really do have depth--though, of course, that's usually accompanied by the painful discovery that they've been shallow.)
Basically, if you like Carl Hiaasen or seriously loopy and busy books, it's worth giving it a shot. Otherwise, give it a miss.
---
I know. A seriously lukewarm review to start things off. Them's the breaks, I guess.
Posted by iain at 10:48 PM